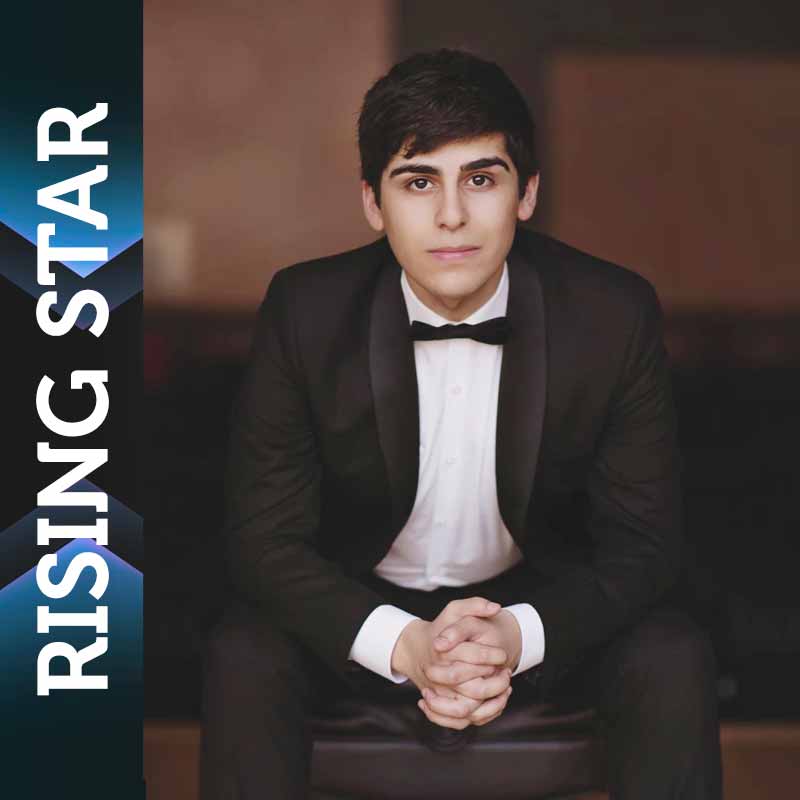 American pianist EVREN OZEL began his musical studies at age 3 in his hometown of Minneapolis, MN.  He has won numerous honors and awards including scholarships from the U.S Chopin Foundation and Young Arts Foundation, first prize at the 2016 Boston Symphony Concerto Competition, second prize at the 2016 Thomas and Evon Cooper International Competition, and second prize as well as Mozart and Chopin special prizes at the 2018 Dublin International Piano Competition.  Most recently, he received second prize and special prizes for Best Mazurka and Best Polonaise at the 2020 U.S. National Chopin Competition securing the honor of representing the U.S.A in the International Chopin Competition which will take place in Warsaw, Poland in October 2021.  
 
Ozel has performed with orchestras such as the Cleveland Orchestra, Jacksonville Symphony Orchestra, Minnesota Orchestra, RTE National Symphony and Boston Pops among others.  In 2018, as a freshman at New England Conservatory, Evren won both the Honors Piano Competition and the NEC Chamber Concerto Competition which garnered him an opportunity to play on the Jordan Hall stage with the school's conductor-less orchestra.  
 
An avid chamber musician, Ozel was selected by Mitsuko Uchida to participate in the prestigious Marlboro Music Festival.  There he performed with Jonathan Biss, Alice Neary, Marcy Rosen and Joseph Lin, among others. Three of his performances at the festival have already been featured in the archived Historic Recordings from Marlboro. In 2019, he participated in ChamberFest Cleveland, featured in their Rising Star program, performing along side artists such as Franklin Cohen, Peter Wiley and Hsin-Yun Huang.  Of his performance of Franck Sonata with Nathan Meltzer, Cleveland Classical wrote "Meltzer and Ozel attended to every contour of the music with care, crafting a longform melodic idea that flowed effortlessly from phrase to phrase and movement to movement.  It was a privilege to witness."
 
Other chamber experiences include invitations to play with Jupiter Symphony Chamber Players and Chamber Music Live! at Queen's College.  He was also a member of Gruppetto Trio which was selected as a New England Conservatory Honors Ensemble in the 2018/2019 school year.  
 
Other summer festival experiences include the International Mendelssohn Akademie Leipzig in 2018 as a Mendelssohn Fellow, taking masterclasses with Pavel Gililov and Matti Raekallio, and the Oxford Philomusica Piano Festival in 2015, where he had masterclasses with Ferenc Rados, Menahem Pressler, and Andras Schiff.  He has also been selected to perform in masterclasses for Richard Goode, Paul Lewis, Mitsuko Uchida, Garrick Ohlssohn, Robert Levin, Hugh Wolff, Lang Lang and others.  
 
In the 2020/2021 season, Ozel appears again with the Jupiter Symphony Chamber Players and performs with NEXUS Chamber Music for Hayden's Ferry Chamber Music Series in Tempe, AZ.  Other concerts this season include solo recitals for the Paderewski Festival in Raleigh, NC, the U.S. Chopin Foundation in Miami, FL, and the Gilmore's Rising Stars Series in Kalamazoo, MI.  
 
Ozel is currently in his senior year at the New England Conservatory in Boston, MA where he has been studying with Wha Kyung Byun since 2014.  He is represented by Concert Artists Guild, as one of the Ambassador Prize winners of their 2021 Victor Elmaleh Virtual Competition.
About our Rising Stars
ChamberFest Cleveland's Rising Stars are recognized for their extraordinary talent. They are invited to deepen their connection to the art of chamber music by immersing themselves in the festival, rehearsing side by side with the leading chamber musicians of our time, and performing in a professional concert setting for discerning audiences and critics alike.