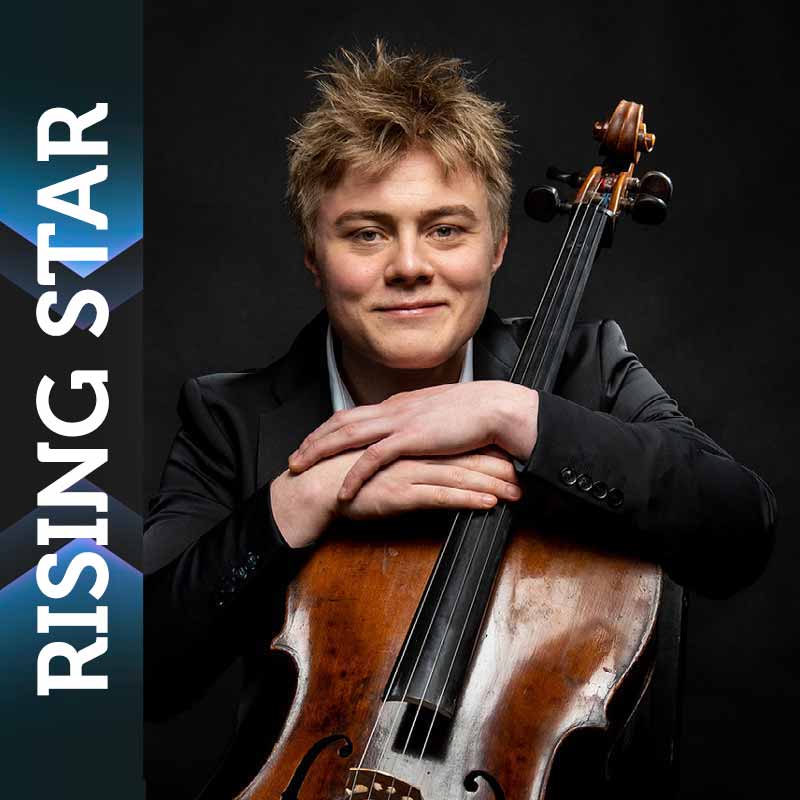 JONATHAN SWENSEN first fell in love with the cello upon hearing the Elgar Concerto at the age of six, and ultimately made his concerto debut at the age of twenty performing that very piece with Portugal's Orquestra Sinfónica do Porto Casa da Música. Since then, he has appeared with the Orquesta Ciudad de Granada, Venice State Symphony Orchestra, Denmark's Aarhus Symphony Orchestra, and Poland's NFM Leopoldinum Orchestra.

Jonathan has captured First Prizes at the 2018 Young Concert Artists International Auditions, 2018 Khachaturian International Cello Competition, and 2019 Windsor International String Competition. In his native Denmark, he was recipient of the Jacob Gades Scholarship in 2019, the Léonie Sonning Talent Prize in 2017, and First Prize at the 2016 Danish String Competition.

Jonathan has made debuts with the Copenhagen Philharmonic, Phiharmonia Orchestra at Windsor Castle and Sun Symphony Orchestra in Vietnam, and he recently performed a re-engagement with Denmark's Aarhus Symphony Orchestra.

Young Concert Artists presented Jonathan's recital debuts in New York on the Michaels Award Concert at Merkin Concert Hall, and in Washington, DC on the Alexander Kasza-Kasser Concert at the Kennedy Center's Terrace Theater. This season, he performs as soloist with the Greenville and Mobile Symphony orchestras, and gives recitals at the Friends of Music Concerts Series and Arizona Friends of Chamber Music.

Recent recital and chamber music appearances outside of the U.S. have included a return to Armenia to take part in the Khachaturian Festival in Yerevan, the Usedomer Musikfestival in Germany, the Tivoli Festival in Copenhagen and a South Korean debut at the Seoul Arts Centre. He is also a frequent performer at festivals in Denmark, including the Schubertiaden, the Copenhagen Summer Festival and the Hindsgavl Summer Festival.

A graduate of the Royal Danish Academy of Music, Jonathan has studied with Professor Torleif Thedéen at the Norwegian Academy of Music in Oslo. He now attends the New England Conservatory of Music for graduate studies, under the tutelage of Laurence Lesser.

About our Rising Stars
ChamberFest Cleveland's Rising Stars are recognized for their extraordinary talent. They are invited to deepen their connection to the art of chamber music by immersing themselves in the festival, rehearsing side by side with the leading chamber musicians of our time, and performing in a professional concert setting for discerning audiences and critics alike.