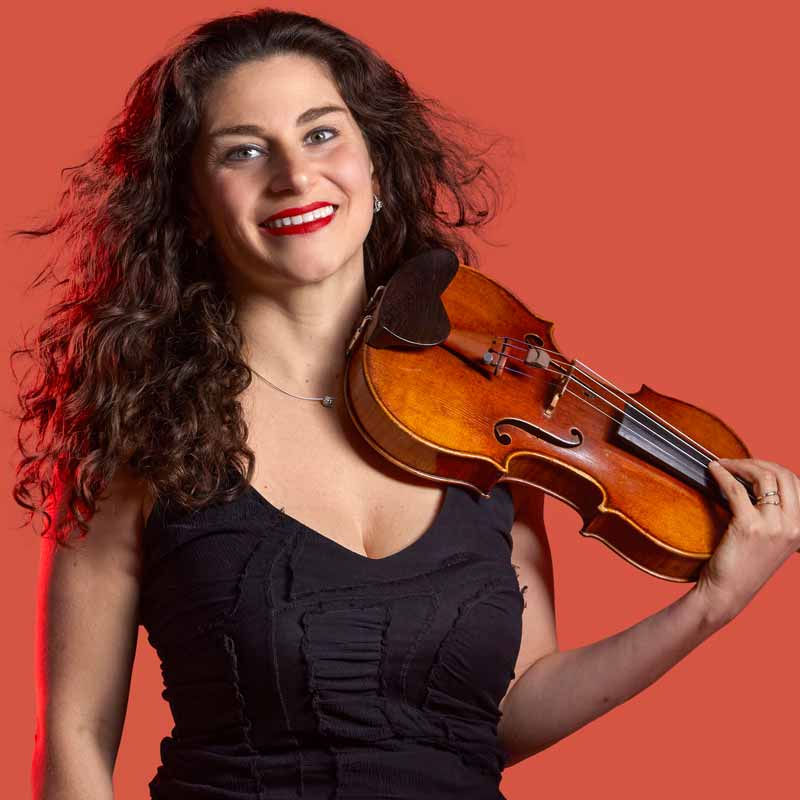 Violinist DIANA COHEN leads a multi-faceted career as a concertmaster, chamber musician, curator, and soloist. Appointed Concertmaster of the Calgary Philharmonic Orchestra in 2012, she has served in the same role with orchestras all over the United States. She has appeared as soloist with numerous orchestras, including Holland Symphony, Richmond Symphony, Rochester Symphony, and symphony orchestras including Lansing, Grand Rapids, and Charleston, among others. As a chamber musician, she has performed at some of the most prestigious festivals including Marlboro Music Festival, Ravinia Festival, and La Jolla Chamber Music Festival, and collaborated with renowned artists including Garrick Ohlsson, Mitsuko Uchida, Jonathan Biss, and members of the Dover, Guarneri, Juilliard, Miro, Parker, and Cleveland Quartets.
Diana has toured and recorded with the GRAMMY®-winning Orpheus Chamber Orchestra, and performed with the East Coast Chamber Orchestra, Sejong Soloists, The Knights, Cleveland Orchestra, and New York Philharmonic. A graduate of the Cleveland Institute of Music, she was awarded the Jerome Gross Prize in Violin and this year is the recipient of the 2023 Alumni Achievement Award. She was also inducted this year into the Cleveland Heights Distinguished Alumni Hall of Fame.
Diana comes from a musical family and performs worldwide with her husband, esteemed concert pianist Roman Rabinovich, as well as her father, Franklin Cohen, longtime principal clarinet of The Cleveland Orchestra. Her brother Alexander is Principal Timpanist of the Calgary Philharmonic, and her late mother, Lynette Diers Cohen, was a distinguished bassoonist. Diana is also the mother of Noa Lynette Cohen Rabinovich, an avid 3-year old music lover.
Diana is co-Founder of ChamberFest Cleveland, now one of the most lauded chamber music festivals in North America, attracting the most exciting musicians from around the globe. This past summer, Diana and Roman founded Calgary's first international chamber festival, ChamberFest West.