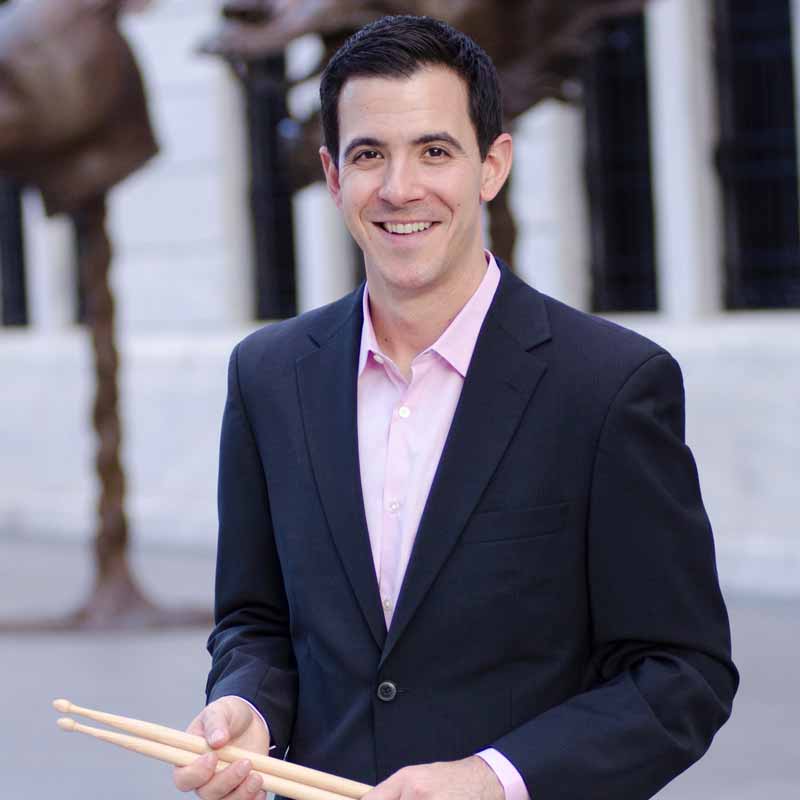 MARC DAMOULAKIS Principal Percussionist, Margaret Allen Ireland Chair, has been a member of The Cleveland Orchestra since August 2006. Marc is currently co-chair of the percussion department at the Cleveland Institute of Music. In his pursuit of developing the dynamic whole musician, he performs as a soloist, chamber musician and is a committed educator and clinician at institutions and festivals worldwide.
Throughout his career, he has performed and recorded as a guest artist with the orchestras of the New York Philharmonic, Atlanta Symphony, Detroit Symphony, Houston Symphony, Sarasota Orchestra, and the Hong Kong Philharmonic.  He is an active chamber musician playing regularly with the Strings Music Festival, Chamberfest Cleveland, and the Sun Valley Music Festival "In Focus" Series, where he is also the principal percussionist. He has performed with Chamber Music Society of Lincoln Center, the Gilmore Festival, the New Music Consort and the Pulse Percussion Ensemble. In addition Mr. Damoulakis is a founding member of the Time Table Percussion Quartet. In 2015, he performed and recorded with the National Brass Ensemble at Skywalker Ranch and Orchestra Hall in Chicago.
In addition to teaching at CIM, Mr. Damoulakis was on the faculty at DePaul University for 7 years. He has led masterclasses and clinics throughout North America, Europe and Asia. He is committed to a bi-annual week long teaching residency at the University of Colorado at Boulder, and is a regular clinician and teacher at the North Western Percussion Symposium, the New World Symphony, and the National Youth Orchestra. Additionally, Marc is the Director of the annual Modern Snare Drum Competition. He has students holding positions in major symphony orchestras throughout the world.
Prior to coming to Cleveland, Mr. Damoulakis resided in New York for 3 years where he performed and recorded with the New York Philharmonic under Lorin Maazel (2003-2006), served as principal timpanist of the Long Island Philharmonic (1998-2006) and held the position of Assistant Principal Percussionist of the Harrisburg Symphony Orchestra (2003-2006).  He performed as an active freelancer in New York playing on Broadway in Phantom Of The Opera.
As a collaborative three year project, he developed the K symphonic line of cymbals with the Zildjian Cymbal Company, instruments that are an important part of his sound collection with The Cleveland orchestra. 
A native of Boston, Massachusetts, Mr. Damoulakis was exposed to music at a young age by his parents who were both educators and musicians, in piano and tuba respectively.   He spent four summers at Tanglewood, in addition attending the festivals of Spoleto, and the Pacific Music Festival. Marc Damoulakis holds an undergraduate BA degree in percussion performance from the Manhattan School of Music, studying under Chris Lamb (The New York Philharmonic), Duncan Patton (Metropolitan Opera Orchestra) and the late James Preiss (The Steve Reich ensemble.) He continued his studies in the New World Symphony, under MTT, for four years(1999-2003.) Marc and his wife Samantha currently reside in Cleveland Heights with their son, George, daughter Helen.