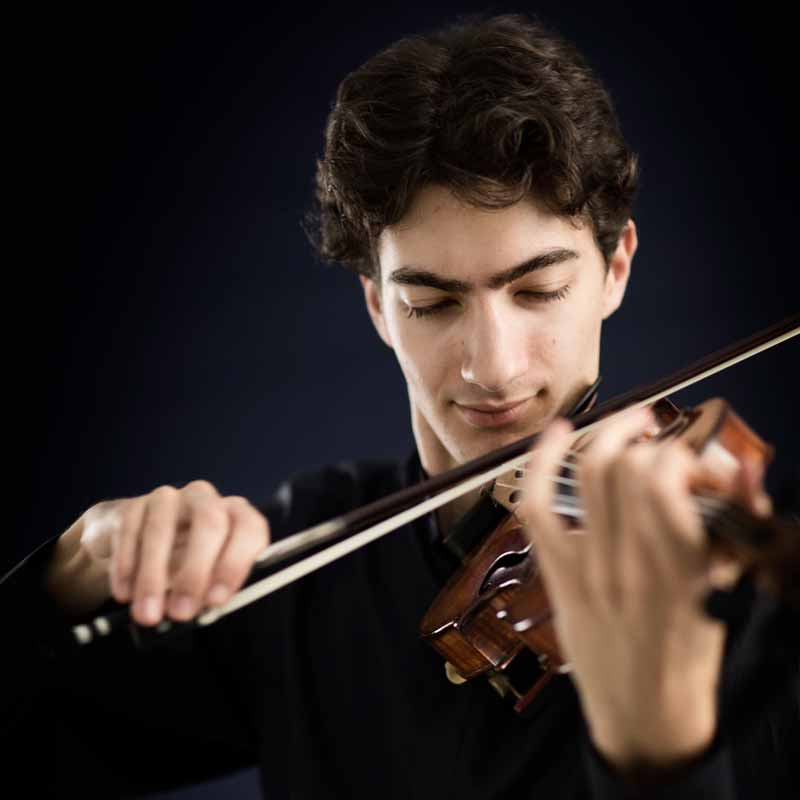 STEPHEN WAARTS' innate and individual musical voice has established him as a firm favourite with audiences. With a voracious appetite for repertoire, he has already performed more than 30 standard violin concertos, as well as rarely performed works, and he is a passionate chamber musician.
Stephen has performed with orchestras such as the Chamber Orchestra of Europe under Sir András Schiff, hr-Sinfonieorchester under Christoph Eschenbach, Antwerp Symphony Orchestra under Elim Chan, Orchestre National de Belgique under both Marin Alsop and Constantinos Carydis, Lucerne Symphony Orchestra under Lawrence Foster and Deutsche Streicherphilharmonie at the Dresden Philharmonie.
In the 2021/22 season, he performs with the Münchner Symphoniker, Mozart-Gesellschaft Dortmund, Brandenburger Symphoniker, Orquestra Simfònica De Les Illes Balears, Folkwang Kammerorchester Essen, Camerata Schweiz, and at the Con Spirito Festival in Leipzig. As part of his association with the Kronberg Academy, he also appears at the Tonhalle Zürich with András Schiff. In recital, he performs at the Philharmonie Luxembourg, Vancouver Recital Society as well as a number of chamber recitals throughout Europe. In 2021, Stephen returned to the Aspen Festival for two performances under Nicholas McGegan featuring Mozart Concerto No.3 and Bach Brandenburg Concertos. He also performed with the Chamber Orchestra of Europe, hr-Sinfonieorchester and Noord Netherlands Orkest. Stephen collaborated with Kirill Gerstein as part of Daniel Hope's 'At Home' series for Arte and performed numerous recitals, including at Deutschlandfunk and Bayerischer Rundfunk.
In 2022, Waarts will release his first concerto recording for Alpha Classics: Mozart Violin Concerto No.1 with the Camerata Schweiz under Howard Griffiths. 2020 saw the release of Hindemith Kammermusik No.4, as part of Ondine Classic's Kammermusik cycle with Christoph Eschenbach, the Kronberg Academy Soloists and the Schleswig-Holstein Festival Orchestra. He released his debut recital album for Rubicon Classics in November 2018, with pianist Gabriele Carcano, featuring works by Schumann and Bartók.
Stephen was awarded the International Classical Music Awards Orchestra Award by the Lucerne Symphony Orchestra in 2019. In March 2017 he was awarded the prestigious Avery Fisher Career Grant. He also won the Festspiele Mecklenburg-Vorpommern's soloist award the same year and has performed at the festival every year since then. In 2015, he was awarded the Mozart Gesellschaft Dortmund scholarship following his appearance at the Krzyżowa-Music Festival. In the same year, his prize-winning success at the 2015 Queen Elisabeth Competition – including securing the majority vote of the television audience – boosted international attention.
Stephen is currently a Fellow at the Kronberg Academy, having graduated in 2021 studying under Mihaela Martin. He graduated with a Bachelor's degree from the Curtis Institute, Philadelphia, where he studied under Aaron Rosand. Prior to this he worked with Itzhak Perlman at the Perlman Music Program and Li Lin at the San Francisco Conservatory. In 2013 he won the Young Concert Artists International Auditions in New York, aged just 17. He was also prize-winner at the 2013 Montreal International Competition and won first prize at the 2014 Menuhin Competition. Stephen is part of the Development Programme of the Orpheum Foundation for the Advancement of Young Soloists.