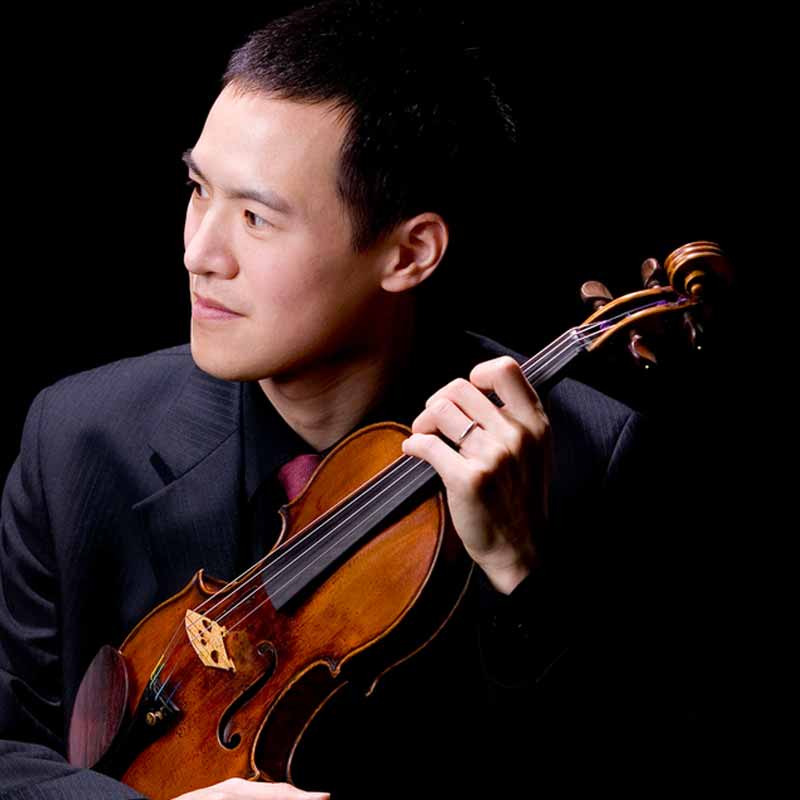 Sought after as a performer and teacher, JOSEPH LIN appears regularly at halls, festivals, and conservatories throughout the U.S., Asia, and Europe. He was first violinist of the Juilliard String Quartet from 2011 to 2018 before stepping down to devote more time to his four young children; he continues to teach violin and chamber music at Juilliard, leading several artistic initiatives and enjoying collaborations with both students and colleagues. His 2019 projects include a collaboration with Robert Levin playing Beethoven and Schubert on period instruments, a Musicians from Marlboro tour on violin and viola, collaborations with Juilliard students during ChamberFest, and performances of Bartók's Second Violin Concerto. In 2020, celebrating the 250th anniversary of Beethoven's birth, Joseph Lin continues a series of performances of Beethoven's late string quartets for Camerata Pacifica. In addition, he and pianist Helen Huang perform the complete Beethoven Violin Sonatas at Juilliard, where they will lead students in a course on these Sonatas. 2020 also marks the 300th year of Bach's violin Sonatas and Partitas, with Lin presenting complete cycles in Boston and Philadelphia as well as masterclasses on Bach. Another focus of Joseph Lin's work this season is Mozart's masterpiece, the Divertimento K. 563, which Lin takes on tour with Musicians from Marlboro.
From 2007 to 2011, Lin was an assistant professor at Cornell University, where he organized the inaugural Chinese Musicians Residency in 2009. The following year, he led a project with Cornell composers to study Bach's violin sonatas and partitas and create new works inspired by Bach, culminating in a series of concerts premiering the new works alongside Bach's. Last year, he performed the complete Bach sonatas and partitas at Sumida Triphony Hall in Tokyo.
Lin was a founding member of the Formosa Quartet, which won the 2006 London International String Quartet Competition. In 1996, he won first prize at the Concert Artists Guild International Competition and was named a Presidential Scholar in the Arts. In 1999, he was selected for the Pro Musicis International Award and, in 2001, he won first prize at the inaugural Michael Hill International Violin Competition in New Zealand. His recordings include the music of Korngold and Busoni with pianist Benjamin Loeb; an album of Debussy, Franck, and Milhaud with pianist Orion Weiss; and the complete unaccompanied works of Bach and Ysaÿe. His recording of Mozart's A Major Violin Concerto with original cadenzas was released in 2017. With the Juilliard Quartet, he recorded Schubert's Death and the Maiden and Elliot Carter's Fifth Quartet as well as the quartet's most recent album, of Beethoven, Davidovsky, and Bartók. During the summer season, he is a regular artist at the Tanglewood and Marlboro festivals.
Lin, whose violin teachers have included Mary Canberg (Diploma '45), Shirley Givens (Diploma '53), and Lynn Chang (Pre-College '69),  graduated magna cum laude from Harvard in 2000, and in 2002 began an extended exploration of China including studying Chinese music in Beijing as a Fulbright scholar.